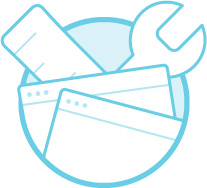 We will Be back Soon
We are working to upgrade our site!  We will be back soon.
Welcome to WebAntsDesign
We are a little company helping other little companies get on the web!  We offer something for everyone! From E-Commerce to a personal blog to share your hobbies, interests or even a site for the family pictures.  No templates here!  We build every site from the ground up giving you an individual look
Services Offered
We are not just web any more, we have expanded our services to print advertising as well as web.  Our overriding policy is still the same, "Give the client the most for their money!"  Now that most for the money includes print!  With WebAnts Design you can get all your needs with one point of contact.
Make a payment
For clients that would prefer to pay via credit card or their PayPal account, we have the ability for you to pay your invoice on-line. Visit our payment page and get all the information you need to get started. Go to our payment page now.
A Little Company Helping Little Companies Get on the Web!
Putting you on top of the ant hill. Separating you from the rest of the colony with a professional website and graphics to suit your every need.